Kayaks Visiting Fishing Cone Geyser
West Thumb Geyser Basin. Yellowstone Lake. Yellowstone National Park. August 4, 2014
Copyright © 2014 A. F. Litt, All Rights Reserved
Photo of the Day by A. F. Litt: September 12, 2014
A late post, a busy day… This geyser, as seen in the photo below, is usually above water by this time of the year. However, it's been a wet one, so the water tables are high all over the west.
This is a pretty interesting location. According to the National Park Service trail guide for the West Thumb Geyser Basin:
Mountain men told of a geyser along an alpine lake where one could catch a trout, swing the pole around, dip it into the boiling pool, and cook the fish without taking it off the line.

This cooking-on-the-hook feat at Fishing Cone became famous after being described by the 1870 Washburn Expedition. Visitors often dressed in a cook's hat and apron to have their pictures at the "Chowder Pot" or the "Fish Pot." Anglers often injured themselves while straddling the boiling water, and their feet damaged the geyser cone. Fishing is no longer allowed at Fishing Cone.

Visitors are sometimes surprised to find Fishing Cone underwater. During the spring and early summer, lake levels rise from melting snow and cover the vent. When exposed, the temperature of the cone's water averages just above boiling (199°F / 93° C).
As for the lake and West Thumb itself, this bay is actually a smaller caldera within the greater Yellowstone Caldera, and dates from a "powerful volcanic explosion approximately 174,000 years ago." The size of Yellowstone Lake is hard to comprehend, even when standing on its shore. At this geyser basin, looking out over West Thumb, the lake is huge, but then you realize this is just a relatively "small" bay off the side of the much larger lake beyond the small gap visible in the image below, framing the "chef's" fishing pole.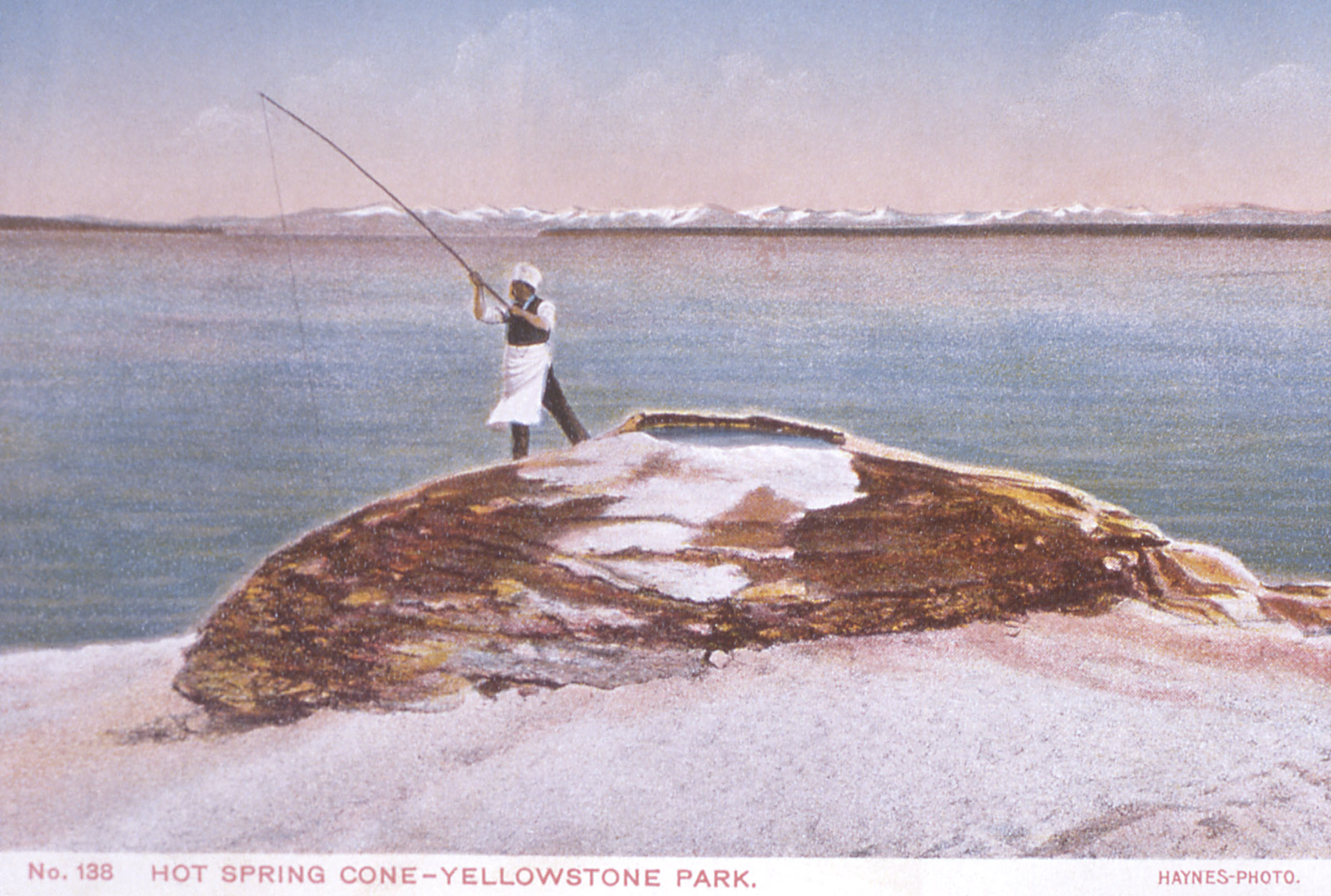 Hot Spring Cone – Yellowstone National Park
Frank J. Haynes
Yellowstone's Photo Collection. Official Site of Yellowstone National Park. National Park Service
http://www.nps.gov/features/yell/slidefile/history/postcards/fjhaynes/Images/11503.jpg
http://www.nps.gov/features/yell/slidefile/history/postcards/fjhaynes/Page-1.htm
On 500px: http://500px.com/photo/83094817/kayaks-visiting-fishing-cone-geyser-by-a-f-litt
On www.aflitt.com: http://www.aflitt.com/p66748386/e20e76b17
Related Posts